Porcelain Veneers Transform Teeth for a Renewed Smile
Patients with chipped, cracked, or minor damage to their front teeth can have the imperfections concealed with porcelain veneers. At our dental practice in Rexburg, ID, we offer various types of veneers, including Lumineers®. A porcelain veneer is a small piece of porcelain molded into the shape of the tooth that is permanently attached to its surface.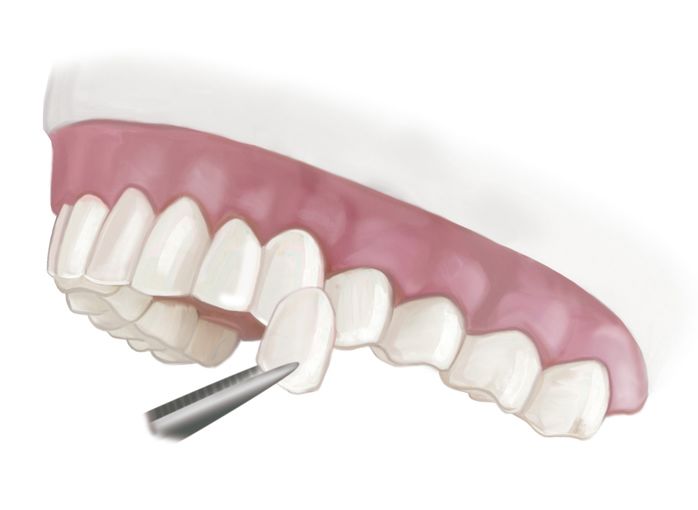 Porcelain veneers attach to the front surfaces of teeth to hide cracks, chips, and other imperfections.
What Issues Can Be Solved with Veneers?
Porcelain veneers are an effective, low-risk option for patients in need of minor cosmetic enhancement to one or more teeth. Some common cases that may be treated with porcelain veneers include:
A tooth that has been cracked or chipped as a result of trauma or an accident.
A tooth that has undergone severe discoloration or deep staining as a result of root canal staining, fluoride staining, or color changes from certain medications. This differs from surface staining that results from tea, coffee, and cigarettes. For surface staining, a dentist will usually recommend teeth whitening. Whitening will not address deep stains.
Teeth that have an unusual shape, deep grooves, or other unusual features. Such features may be the result of genetics or damage.
Gaps between teeth, or teeth that slightly overlap. In these situations, placing a veneer may be a simpler option than orthodontic options.
The Benefits of Porcelain Veneers
Porcelain veneers are a cosmetic dentistry option for patients who are dissatisfied with the appearance of one or more teeth. Particularly with front teeth, a cosmetic problem can prevent a patient from feeling comfortable enough to smile or speak in a professional or social situation. Porcelain veneers are a good option for treating cosmetic issues that are not well-suited to other procedures, such as teeth whitening. However, veneers are only suitable in cases where there is not a more serious underlying oral health problem causing pain or discomfort.
What to Expect
At Madison Park Dental Center, we offer options when it comes to veneers, including traditional veneers and no-prep Lumineers®. You should expect to make several visits to the office for the procedure. Over the course of your treatment, we will need to remove a very thin layer of enamel from each tooth that will receive a veneer. When your custom veneers are ready, we will bond the veneers to your teeth.
Porcelain veneers offer a permanent and natural-looking solution for aesthetic dental problems.
This is considered a permanent procedure and the bonding will keep the veneers attached. If you qualify for the no-prep Lumineers® option, you can expect to make fewer trips to the office as you will not have to wait for the lab to prepare your veneers. Lumineers® are also thinner than traditional veneers so in many cases, you will not have as much tooth enamel removed.
Schedule Your Consultation
Porcelain veneers offer a permanent and natural-looking solution for aesthetic dental problems. If a cosmetic flaw has been affecting your smile, contact our practice to schedule your consultation and see if you could benefit from veneers.