Choose Tooth-colored Dental Fillings for Support and Aesthetics
At Madison Park Dental Center, we provide tooth-colored dental fillings at our Rexburg, ID, practice to restore teeth following cavity treatment. Tooth-colored fillings are matched to the shade of your tooth to provide not only support, but also a natural-looking restoration. In addition, these fillings achieve a stronger bond with your tooth than amalgam fillings, and are toxin-free. If you are experiencing symptoms of decay, you can depend on our skilled team to diagnose the issue, provide appropriate treatment, and restore the health and beauty of your smile.
Candidacy for Dental Fillings
If you notice a pain that seems to radiate from a particular tooth, especially after eating sweets or when exposed to cold or heat, you should not wait until your next six-month appointment to address it. This kind of pain may indicate a cavity, and the sooner a cavity is addressed, the easier it will be to treat. During your appointment, we will conduct a dental exam to determine if you have a cavity and if a dental filling is appropriate.
What to Expect: Placing a Dental Filling
If you require a dental filling, the dentist will first numb the affected area. The decayed tissue will be removed from the tooth, and the area will be thoroughly cleaned. The final step is placing the filling material, which can be porcelain, gold, tooth-colored resin, or silver amalgam. Tooth-colored (composite resin) and amalgam are the most common filling materials. Once your dental filling is complete, it will provide long-lasting support and prevent further deterioration.
Tooth-colored vs. Amalgam
For decades, silver amalgam has been the standard material used to fill cavities because of its long-term durability. However, this approach has some disadvantages. As a metal, silver amalgam will expand and contract with temperature changes as you enjoy cold drinks and hot meals. This places pressure on surrounding dental tissue, resulting in small fractures that can damage the structure of the tooth or allow bacteria to enter hard-to-reach areas, leading to further decay.
Today, tooth-colored fillings provide a wealth of advantages that make them a popular and common solution.
Many patients feel that metal fillings are conspicuous. They are dark in color, and can make otherwise healthy teeth appear decayed and unattractive. Metal fillings also contain trace amounts of mercury, a toxin. Medical researchers have not identified a link between the mercury in metal fillings and any health issues, but some patients feel uncomfortable with this option.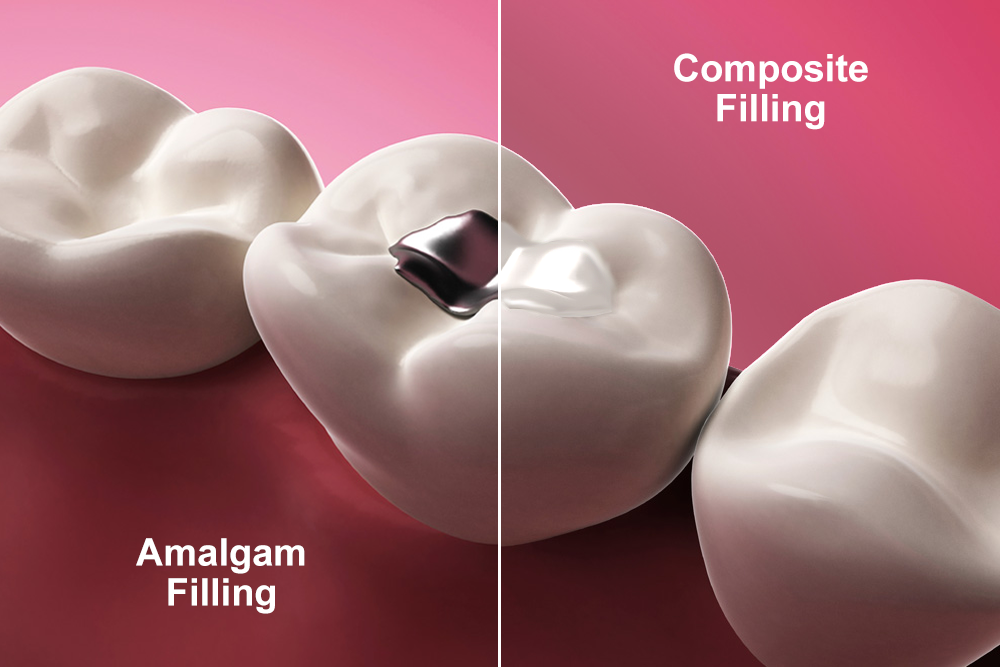 Tooth-colored fillings provide both practical and aesthetic benefits.
Today, tooth-colored fillings provide a wealth of advantages that make them a popular and common solution. Besides achieving a more aesthetically pleasing result, the resin forms a much stronger bond with the tooth than silver amalgam. Composite resin also contains no toxins, giving many patients added peace of mind.
Schedule Your Dental Exam
The doctors at Madison Park Dental Center offer attractive, natural-looking tooth-colored dental fillings. Following a cavity or a tooth affected by decay, fillings can restore strength and add structure back to your smile. Contact our dental practice today to schedule your consultation.